THREE STEPS TO CHANGING YOUR MIND:
CATCH THE MOMENT YOU BECOME AWARE YOU ARE THINKING AND/OR FEELING
by
Robert Farmilo
with
Swami Bob, Little Miss Perfect, Rock Hard, Poochy Bear, and Mr. Nimble Mind
We are going to dive right into this with the how-to-do-it first, and then all the explainer stuff AFTER. If you want some top quality blah-blah-blah, keep ongoing...PLUS top-notch videos and some decent extra-special links to really good how-to lessons.
WATCH THIS VIDEO
Okay, here's the thing:
One study about thinking shows us that we have about 12,000 to 60,000 thoughts each day.
Bosh! Misleading. Not true (probably).

The most recent research reveals that the number of thoughts you have each day number more like this: 6,200

> THE STUDY <
RIght. So?
Well, it probably means that you have a working brain that can think thoughts and be aware of feelings, too.

And you have a brain that is working enough so that you can read these words...and possibly understand the meaning of the words.
So, you can do what I am going to tell you to do.
What is that?
When you become aware that you are thinking thoughts and/or feeling feelings, I want you to notice that you are thinking thoughts and feeling feelings.
In that moment when you "wake-up" and catch yourself actually noticing you are thinking a thought and/or feeling some emotion there is an opportunity to make a choice.
This choice "thing" is a big deal. It is huge, stupendous, powerful...life-changing.
Okay, so you have caught yourself thinking and/or feeling. What you do next is think: "Oh, I am thinking and/or feeling."
You MUST acknowledge to yourself that you have caught yourself in the act of thinking and/or feeling.
NEXT:
Now you make a choice. You get to choose what you will think. The next thoughts you have will be the ones you decide to entertain in your own mind.
You get to consciously choose what you will think next.
This such a big deal.
For the few remaining moments, before your mind submerges itself back into unconscious thinking and/or feeling, you will be in control of your mind.
You will be able to notice the options available to yourself. And you will most certainly notice the habitual thoughts that want to come back into your mind.
But you get to choose.
You see, for that little moment, you have surfaced into conscious awareness. You are aware of being the thinker of your own thoughts and the feeler of your own feelings.
Now you choose what comes next.

What thoughts do you want to think?
You can deliberately think one word.
And then you can sort-of taste what that one word thought
feels
like to you.
NOTICE what thoughts are provoked by the one-word thought...and where they seem to be leading you.
Do you like it?
Is that how you want your mind to be occupied?

And this begs the question: "What should I insert into my mind when I become aware that I am thinking and/or feeling?"

There is a suggested list of what to consciously choose to think about at the end of this article.

PLUS, you can get a head-start by going through this how-to gamechanger:
> THINK EFFECTIVELY <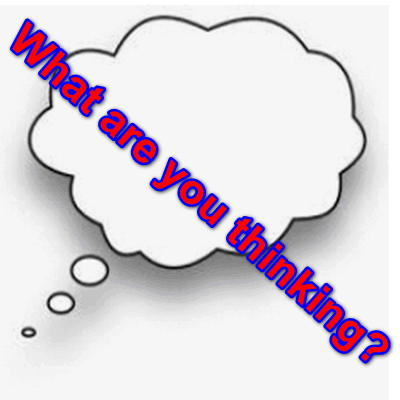 NEXT:
You will probably begin to notice how often your mind is taken over by your own thinking and/or feeling. You are gone, and the thoughts and feelings take over your awareness. They keep coming and coming...until that brief little moment you catch yourself being aware that you are thinking and/or feeling.

The more you practice the simple three-step method of self-awareness, the stronger you will make your mind's ability to consciously notice it's own activity.

Your life will change according to the thoughts and/or feelings you choose to think and/or feel. You will get to pay attention to what you want to pay attention to...inside your mind.


ONE: When you notice that you are thinking and/or feeling, go to step TWO.
TWO: Acknowledge you are now aware that you are thinking thoughts and feeling feelings.
THREE: Choose your next thought.
Your mind will hi-jack this process and return to its "normal" operating system. You will lose the choice to decide what to think and/or feel...until the next time that you suddenly catch yourself becoming consciously aware.

Great, but what about Pervasive Negativity Bias?
Yes, that is a problem, isn't it?


Put simply, you are hardwired to push dead bears up trees.
It takes EFFORT to change the thoughts and/or feelings that you are habitually rolling with.
> WHAT IS PERVASIVE NEGATIVITY BIAS? <

That is why this tiny little moment of catching yourself thinking and/or feeling is such a great opportunity to reboot what you are doing with your mind...and heart.

There are some specific ways you can get better at waking-up inside your own mind. The best ones are simple and easy to do. Here are some links to complete "how-to" methods for you to use.

> DO THIS ONE RIGHT NOW, IT WORKS! <

> THIS ONE IS ALSO SUPER GREAT FANTASTIC! <

IF you practice one of these simple methods, you will get a whole bunch of other benefits, too. So...nothing to lose, everything to gain.

As always, it is your choice. You get to choose.
That is a wonderful form of freedom, isn't it?

Let us know what you think and feel about this article.
Share and like it, too.
That will help more people.

IF you want, you can get a book that will definitely give you a different slant on your existence.
> THE BOOK <
What to think about when you notice you are thinking?
You can think one word from this list:
Someone who you care about.
Someone who cares about you.
A challenge you overcame.
A goal you have achieved.
Some way in which God (or not God) has blessed you.
Something artistic you think is beautiful.
An inspiring or beautiful place in nature.
An accomplishment you can be proud of.
Something you have learned.
Someone you have helped.
Someone who you would like to emulate (be more like).
What you believe to be most important in life.
A character trait you would like to develop.
Something you would love to do.
How your life is different because of a good choice you made somewhere, sometime.
Some way in which you have grown or matured.
A time when you felt loved.
Something you DO have a choice about.
A time you felt God (or whatever) was close to you.
A story of someone who overcame big challenges.
A piece of music that lifts your spirits.
A scripture, sutra, saying you find meaningful.
Something you would like to make better for others.
What it feels like to worship God (or nature or whatever).
> LIST SOURCE <
VIDEOS:
HOW DOES OUR BRAIN THINK?
> CLICK HERE TO FIND OUT <
TAKE A TOUR OF YOUR BRAIN
> CLICK HERE TO TAKE THE 50 SECOND TOUR <
> CLICK HERE FOR THE 90 SECOND TOUR <

HOW YOU BUILD YOUR BRAIN
> CLICK HERE TO BLOW YOUR MIND <


https://www.youtube.com/watch?v=DAz6-qQyAQc
ANIMATED BRAIN TOUR (AWESOME!)
https://www.brainfacts.org/3d-brain#intro=true&focus=Brain-cerebral_hemisphere-frontal_lobe-premotor_cortex&zoom=false